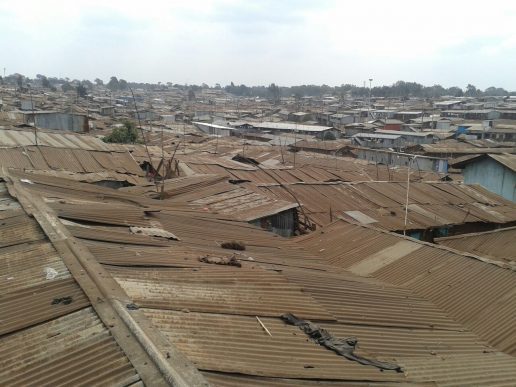 German version / Deutsche Version
Have you ever searched the sewer for rusty nails? With this task people earned their daily living only a few meters away from our event.
Welcome to the "friendliest slum in the world"! That way a travel agency attracts for chronic disaster tourism in the Kibera slum in Nairobi. It is like trying to announce a beauty contest for the ugliest residential area: The winner will not look better by that at all. Already in our first meeting in the morning a drunkard staggers past me, collapses and is the dragged away by his friends. Daily life in Kibera.
[google-map-v3 width="560″ height="350″ zoom="8″ maptype="HYBRID" latitude="0″ longitude="0″ addresscontent="Kibera Nairobi Kenya" showmarker="true" animation="DROP" showbike="false" showtraffic="false" showpanoramio="false" maptypecontrol="true" pancontrol="true" zoomcontrol="true" scalecontrol="true" streetviewcontrol="true"]

"Kibera Celebration! Come everybody!" the speakers of our trucks are booming. On our mobile stage people are dancing, rapping, singing and inviting – no matter if we are driving or standing still. After several smaller open air services we stop on our way at the edge of the slums. The well known musicians of our team attract the crowd: Soon we have a major event. Thousands hear the Gospel and many follow the altar call. Far from daily life in Kibera.
Directly after the Gospel Meeting there is an execution on the schedule. They call it "Mob Justice". Right on our way home an angry crowd comes towards us. In their midst there is a man with his hands tied up; probably a pickpocket. They lead him to the very place where we had just finished preaching. Most likely this man will not survive this day. Everyday life in Kibera.
Jesus changes people completely – in this we put our trust. Even if the life circumstances do not improve dramatically right away, the Gospel can change everyday life in Kibera.

Here are some impressions as video:



Picture gallery:

[srizonfbalbum id=1]

PS: As always, I am happy about your reactions – just click below on the right "comments" and let me hear from you. You are also welcome to share, tweet, post, like, forward… this article.